Fidelcrest is a proprietary trading firm founded in 2018 by Forex traders and professionals, while the official incorporation of the firm took place in 2020. Their headquarters are in Nicosia, Cyprus, and their IT department is in Tallinn, Estonia.
Their headquarters are located at Arch. Makariou III & 1-7 Evagorou, MITSI 3, 1st floor, office 102 C 1065 – Nicosia, Cyprus.
Multilingual Customer support
Overnight holding and news trading allowed
Leverage 1:100
Up to 2,000,000 capital
They offer their clients a chance to work with up to $2,000,000 capital and use Fidelcrest Markets as their broker.
Fidelcrest Minimum Trading Days
The prop firm, Fidelcrest, announced that their new Automatic Account Review System, built over the four years they have been in business, is complete now. The firm is happy to announce that the minimum ten trading days are no longer required, both in Challenge and Verification. Great News! Isn't it?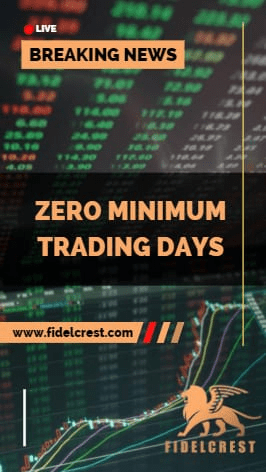 Therefore, a trader's Evaluation Process is faster, meaning traders can get funded in less than two days on any account type or size.
Summing this up:
Traders can get funded in as little as two days.
For example, if a trader reaches the profit target in 4 days without violating any drawdown limits. They don't have to wait for another six or force their way into fulfilling ten trading days with random trades to enter the review process.
Also, the review process is much faster now!
However, the firm still advised its traders to take their time and to pass the challenge.
Fidelcrest believes that by removing the ten minimum trading days, they're offering traders who want to succeed in a less stressful environment a calm approach in the markets.
Happy trading!
Also, if you want to read about Prop firms that allow trading the VIX Index, click on the link.
Also, you can get a 15% off by using Forex Prop Reviews special discount code (FPR-15), or you can read the review.