We are going to call July the month of Prop Updates. Every day, there is a new Update. The Prop Industry has grown so much in the past months that it is so difficult to catch up with them. But don't worry; we got you. Now, coming to today's topic, My Forex Funds New Dashboard. Yes, you heard it; Grab your Accounts. The new Stylish Dashboard is here.
Here are some of the Features of My Forex Funds New Dashboard:
New Interface
New Blog Feed tab
The dark mode option is Coming Soon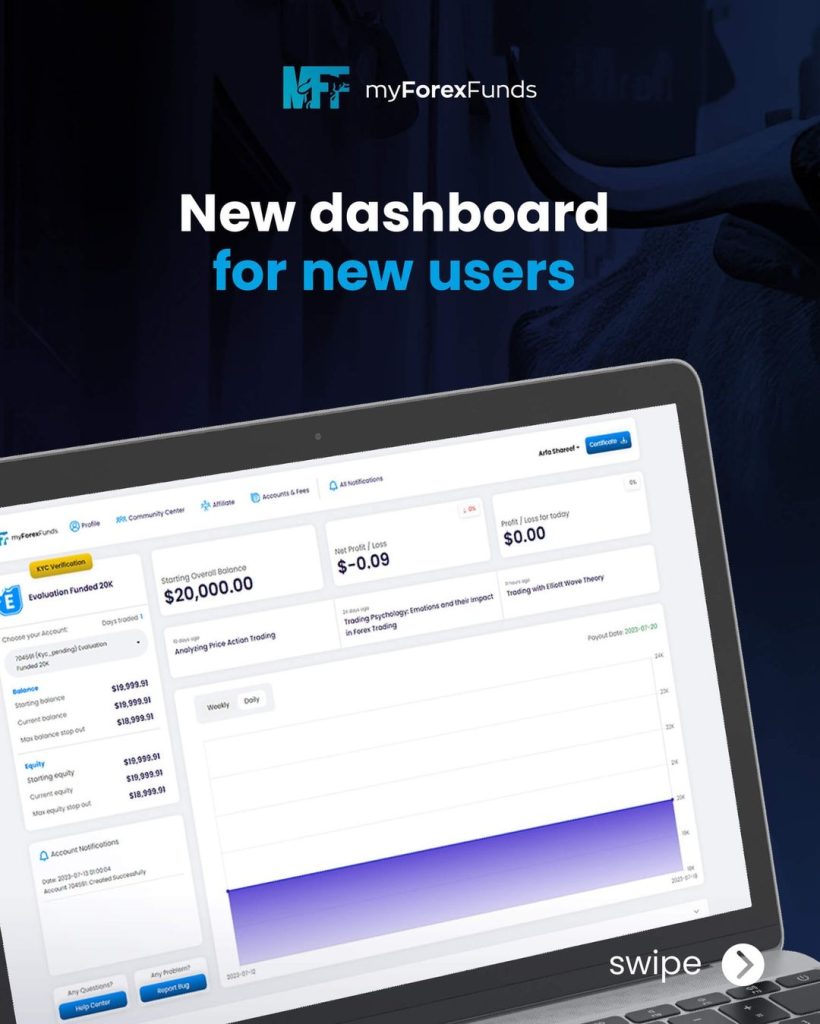 My Forex Funds New Dashboard
Also, the firm shared that this dashboard is available for all new users. Existing users will be slowly added in time, and they appreciate your patience on this matter.
Some of you may have noticed, and others may not, but MFF has started a slow rollout of its new Dashboard. Currently, all new traders are joining their ranks on the new dashboard.
As the capacity increases, MFF will monitor the situation and start adding other accounts before executing their full migration plan. The prop firm also asked their traders If they are not on the new dashboard, please not request to be changed; it will happen over time.
MFF expects the first dashboard patch to be approximately 20-30 days from now; the first patch will include dark mode and C-Trader, as well as a few other things; as it gets closer, they will release the patch notes. They have many patches to come after that as well with additional features, fixes, and functions.
The current release is the bare-bones release. There is a lot more to come. Happy trading, everyone.
About the Firm
Here are some interesting details of the firm:
Over 12k Trustpilot reviews with an excellent score of 4.9/5
Direct funded account sizes from $2,000 to $50,000
The trader receives account fees back +12% on the first payout
2% and 4% phase bonuses from the evaluation stages
Unlimited evaluation-free retries
Low commission costs
Low fees
Leverage 1:50 – 1:500
For more details, read the Review or use our discount code (forexpropreviews5) for a 5% Discount.